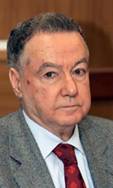 Themistocles Xanthopoulos
Emeritus Professor N.T.U.A.
Brief biographical note
1. Studies
Graduated from the Civil Engineering School of the National Technical University of Athens (N.T.U.A.).
M.S. level diploma in hydraulics from the «Ecole Nationale Superieure» de Toulouse.
Certificates in three topics, University of Toulouse, physics department.
Doctor in Engineering, Ecole Nationale Superieure de Toulouse.
2. Academic paths
Lecturer associate professor and professor of hydraulics, Polytechnic School of Aristoteles University of Thessaloniki(1965-1975).
Professor of hydrology and hydraulic engineering, National Technical University of Athens (1975-2004).
Professor emeritus, N.T.U.A, after 2004.
Rector of N.T.U.A, two elections, (1997 – 2000, 2000 - 2003).
President of the N.T.U.A civil engineering school, two elections, (1981 – 1983, 1995 – 1997).
Founder, director of the hydrology and water resources laboratory, until 2003.
Founder, director of the interdisciplinary post graduate program «Water resources science and technology», until 2003.
Visiting professor in technical universities (France, Switzerland and U.S.A).
He was fortunate to teach during 40 years thousands of students and to supervise a considerable number of diploma (M.S. level) thesis, PhD thesis', Lecturer's dissertations in Greece and PhD thesis' in other European countries.
Scientific books, papers in international scientific journals.
3. Technological and administrative paths
Publications in newspapers and journals, lectures in scientific international meetings.
Consultant or technical advisor on engineering and development projects for the public and private sector in Greece and the European Union.
General Manager of the Greek Public Power Corporation, (July 1989 - April 1993).
Deputy Minister of Public Works (March 2004 – September 2009).
4. Other activities
Publications and presentations in areas of his broader scientific interests.
In 2005 his book «Greek Education» was published.
Since October 2009 he studies and writes essays on the general subject «Entrapped societies and market's empire: The failure of the bourgeois democracy».
Member of scientific and professional organizations.
Foreign languages: French, English.
5. Contact
Office address
N.T.U.A. Heroon Polytechniou 9, 157 80 Zografou-Greece, Tel.210-7722265
Home address
Kefallinias 8, 145 63 Kifisia-Greece
Tel.: 2108010413, Fax: 2108010414, e-mail: thxanth@central.ntua.gr